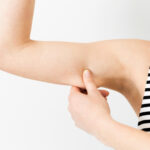 Arm lift called also brachioplasty is a surgery dedicated to improve the look of upper arms area. During the procedure, saggy skin is removed from the area of upper arms. It is possible that liposuction will be recommended alongside an upper arm lift to improve the final result.
To remove the excess skin and fat from the upper arms, the surgeon performs an incision that runs along the inner part of each upper arm. In the majority of cases, the incision is long from the armpit to the elbow. Skin excess is removed and remaining skin and tissue are lifted and stitched back to achieve a tighter result. The surgery is performed under general anaesthesia and takes around 2 hours. It requires 2-3 days stay with us in the clinic under medical care. Stitches should be removed around 10 days after the surgery.
Recovery generally takes around 4-6 weeks. A patient can be back at work after 1-2 weeks, depending on a type of work. It is important to treat the incisions with anti scar ointments to improve the appearance of scars.
Questions? Inquiries? Fell Free To Ask Me Via The Form Below
What Treatment Are You Interested In?
I Will Answer All Your Questions!