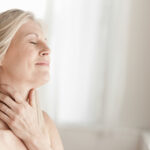 Surgical neck lift includes skin and muscle tension improvement.
The best candidates for the neck surgical lifting procedure are people who suffer from excess flabby skin in this area.
An element of the surgery is the improvement of face contour and jaw line. Neck lift can successfully make you look even 10 years younger.
Neck lift surgery can treat:
Excess fat and skin sagging in the lower face that creates jowls
Excess fatty deposits under the chin
Loose neck skin
Muscle banding in the neck, which created abnormal contours
Surgical lifting of the neck and lower face is usually performed under general anaesthesia. The surgeon makes small incisions behind the ears in the line of the hair, and possibly smaller ones in the chin area. The whole procedure takes about 2 hours and the patient may leave the clinic after 2-3 days.
During the first few days after the surgery, the swelling and bruising gradually disappear, although the swelling may take longer to resolve. Stitches should usually be removed after 8-10 days. For the first weeks after the surgery, the patient should avoid physical effort, visits to the sauna, bathing in the bathtub, sunbathing, as well as staying in the cold.
Neck lift gives visible, long-lasting results, improves our look and enhances self-image.
Questions? Inquiries? Fell Free To Ask Me Via The Form Below
What Treatment Are You Interested In?
I Will Answer All Your Questions!