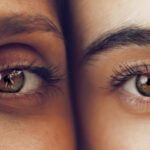 The best candidates for lower / upper eyelid surgery (also called blepharoplasty) are women and men whose skin around the eyes lost elasticity, is significantly saggy, has visible wrinkles, has protruding bags, causes mission problems.
In the majority of cases, upper and lower eyelid surgery is performed in local anaesthesia. In case of the upper eyelids the incision is made in the natural skin folds. Skin excess and fat hernias/bags are removed and the skin is sutured. Special plasters may be put on the wound after the surgery.
During lower eyelid surgery, the surgeon performs the incision in the line just below the lower lashes. The excess of fat, skin and muscle is removed. The wounds are stitched together and plasters are put on to the wounds to protect them. Both lower and upper eyelids can undergo surgery during the same procedure.
The surgery is not painful. After the procedure, swelling and bruising can occur around the eyes. If the surgery was performed under local anaesthesia, a patient can leave the clinic even on the same day, being accompanied by a relative or friend. In case of general anaesthesia, a patient should stay in the clinic for 1 night.
For about 2-3 hours after the surgery, ice compresses are recommended. Stitches should be removed after around 7 days. Swelling and bruises go down in about 1-2 weeks. About a week after removal of stitches, it is good to start treating the incision with ointments that help the scar to flatten out and lighten in colour. The recovery is quick and the majority of patients see the results immediately. After about 3-4 weeks, final results of the surgery are visible.
Eyelid surgery gives excellent, long-lasting results.
Questions? Inquiries? Fell Free To Ask Me Via The Form Below
What Treatment Are You Interested In?
I Will Answer All Your Questions!